Book Club – June 2017
This month our book club will be meet Tuesday, June 27th at 7pm and will be discussing two books.
Our first book for the June meeting: Commonwealth is the seventh novel by American author Ann Patchett published in 2016. The novel begins with an illicit kiss that leads to an affair that destroys two marriages and creates a reluctantly blended family.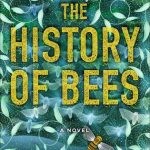 Our second book: The History of Bees, A Novel by Maja Lunde.  In the spirit of Station Eleven and Never Let Me Go, this dazzling and ambitious literary debut follows three generations of beekeepers from the past, present, and future, weaving a spellbinding story of their relationship to the bees—and to their children and one another—against the backdrop of an urgent, global crisis.   England, 1852. William is a biologist and seed merchant, who sets out to build a new type of beehive—one that will give both him and his children honor and fame.   United States, 2007. George is a beekeeper fighting an uphill battle against modern farming, but hopes that his son can be their salvation…
For more information, contact our club president at: info@aaupw.de