Who we are
AAUPW is a private organization based in Munich, Germany for American and other English-speaking women graduates of an American accredited college or university.
What we do
In addition to our monthly program meeting, which features a guest speaker and a lively discussion, we offer a variety of other monthly events and activities.
How to join
If you'd like to know more about AAUPW, why not come along to one of our monthly gatherings to see if our group and its activities reflect your personal interests?
Program Meeting - June 2019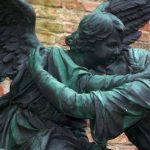 Please Note: The walking tour replaces the June meeting. See Evite for more details.
Tour will be THURSDAY,  JUNE 6TH (not the third Wednesday)
Our AAUPW walking tour for this year is planned for the Altsüdlicher Friedhof in Glockenbachviertel in the middle of Munich. It is a lovely old cemetery, 450 years old, no longer in actual use as a cemetery, but with the character of a park.  It was established in 1563, as a place for victims of the plague, outside the city walls.  A park full of the history of Munich, it has been described as "Munich's Memory".
Dr. Harald Stadler, art historian and editor, will accompany us and tell us about the many famous people buried there, from architect Leo von Klenze, to Joseph Fraunhofer, Carl Spitzweg and many others.  You will be surprised at how many of Munich's street names you find there!
Please meet at 6pm on Thursday, June 6th at the main entrance on Stephansstr., next to the Stephanskirche. Afterwards, we will go to dinner in a restaurant in the area. If you plan to go to dinner, please indicate that in the comments on your Evite so we can get a head count for a reservation.
You can read more about the cemetery and its inhabitants (in German but Google Translate works) here:  https://www.muenchen.de/sehenswuerdigkeiten/orte/120250.html
Please note, the tour is not on 3rd Wednesday. The person leading us is not available on Wednesdays, and we were working around the many holidays in June.
---
Tax Fairness for Americans Abroad
Tax Legislation Reform: With April 16th coming up, many in the US are scrambling to do taxes. U.S. taxation law tends to be a burden to U.S. citizens living abroad, and it impacts many in unintended ways – from preventing us from opening bank accounts to doing online trading to having joint bank accounts with non-American spouses.  Some of our volunteers in Democrats Abroad have been working hard over the last two years to introduce the Tax Fairness for Americans Abroad Act.
For that purpose, they published a survey at the beginning of February – which many of you kindly filled out – so that they could identify and gauge the biggest issues Americans abroad have with taxation. If we want to get this bill into and through Congress, we have to be heard. So please call your members of Congress and make it clear how it would make a difference for you. Feel free to refer to the following the guide.  Updates from our team and the general timeline for tax reform in the 116th Congress can be found here.  For more information contact:infor@americansabroad.org.Washington, DC
Washington, DC - March 25, 2019
On March 13th and 14th, American Citizens Abroad (ACA) and American Citizens Abroad Global Foundation (ACAGF) hosted two webcasts updating the community on the recently introduced legislation, Tax Fairness for Americans Abroad Act (TFAA). Invited to speak at the webcasts were Matt Stross, Tax Counsel for Representative Holding, ACA Legal Counsel Charles Bruce and, several tax professionals (March 13 bios) (March 14 bios).
"ACA and ACAGF felt it important to have an update on the extensive work that Representative Holding's office has been doing on this legislation and inform the community on next steps," said Charles Bruce, ACA Legal Counsel and ACAGF Chairman. "Response to the webcasts has been very positive and the community has written ACA and ACAGF expressing how important it was for them to hear about this legislation from the Office of Representative Holding.  ACA will be working to make the content from these webcasts more widely available in the coming days," added ACA Executive Director Marylouise Serrato. For full audio of both the March 13th and 14th webcasts click here
Interesting conversations, professional advice, and good friends — AAUPW has been my lifesaver!
Dr. Kristy Koth, Teacher and Publisher
AAUPW has provided outstanding personal and professional networking opportunities.
Eleanor Reagh, User Experience Designer