Program Meeting - June 2019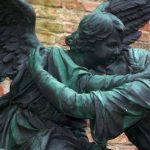 Please Note: The walking tour replaces the June meeting. See Evite for more details.
Tour will be THURSDAY,  JUNE 6TH (not the third Wednesday)
Our AAUPW walking tour for this year is planned for the Altsüdlicher Friedhof in Glockenbachviertel in the middle of Munich. It is a lovely old cemetery, 450 years old, no longer in actual use as a cemetery, but with the character of a park.  It was established in 1563, as a place for victims of the plague, outside the city walls.  A park full of the history of Munich, it has been described as "Munich's Memory".
Dr. Harald Stadler, art historian and editor, will accompany us and tell us about the many famous people buried there, from architect Leo von Klenze, to Joseph Fraunhofer, Carl Spitzweg and many others.  You will be surprised at how many of Munich's street names you find there!
Please meet at 6pm on Thursday, June 6th at the main entrance on Stephansstr., next to the Stephanskirche. Afterwards, we will go to dinner in a restaurant in the area. If you plan to go to dinner, please indicate that in the comments on your Evite so we can get a head count for a reservation.
You can read more about the cemetery and its inhabitants (in German but Google Translate works) here:  https://www.muenchen.de/sehenswuerdigkeiten/orte/120250.html
Please note, the tour is not on 3rd Wednesday. The person leading us is not available on Wednesdays, and we were working around the many holidays in June.